Want to go travel near Bangkok? You can do a short trip from Bangkok to a nearby province within a drivable distance. Here are some places to visit not far from Bangkok.
Samutprakarn
Sirinakhonkhueankhan (Bang Krachao) Public Park and Nature Park
The large green area near Bangkok, surrounded by the Chao Phraya River, is considered the lungs of the city where people can breathe fresh air on the wide green space that covers over 6 sub-districts. It is filled with various species of mangrove trees and designed for various activities such as cycling and coffee drinking while enjoying the cool breeze along the river. Additionally, this Bang Krachao area has become a very popular check-in spot for health enthusiasts, cyclists, slow-life lovers, and nature lovers. If you haven't visited here yet, you are missing out on a hot trend.
Bang Nam Phueng Floating Market
This new floating market near Bangkok was created through the cooperation of the Bang Nam Phueng community and the Bang Nam Phueng Subdistrict Administrative Organization, who wanted to revive the tradional way of life of the local people along the riverside. It still holds the charm of the traditional Thai way of life, which is influenced by the Mon ethnic group, who have lived in the Bang Nam Phueng area for a long time. You can find local products, goods, famous food, and even rare vintage items at this floating market, such as bamboo baskets and herbal compress balls. The market is open only on weekends from 8:00 a.m. to 2:00 p.m.
The Crocodile Farm and Sea Animal Garden in Samut Prakan
The largest crocodile farm in the world, a place for breeding various crocodile species, where tourists from both Thailand and abroad must visit to witness the life cycle of crocodiles up close and watch the thrilling shows, such as the jaw-dropping performance of the crocodile doctor and the well-trained crocodiles. It's a must-visit place for thrill-seekers and adventurers.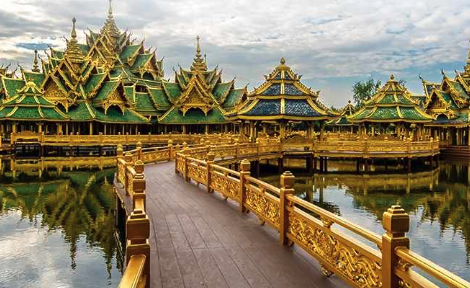 The most classic tourist destination on the area of ​​the ax blade-shaped land, just like the shape of Thailand. It has collected over 116 important Thai landmarks, such as the Phra Pathom Chedi, Khao Phra Wihan, Phra Buddha Bat, Saraburi, and Chaiya Phumalai in one place. These landmarks are scaled down to a miniature size with exquisite craftsmanship, just like the real ones.
Nakhon Pathom
The Grand Palace at Sanam Chan
Palace is a former royal palace that was built for King Rama VI (Rama VI) to be used as a location for royal ceremonies, including the coronation of the king and for relaxation. Today, it is open to the public and features a shady and peaceful garden with many beautiful architectural landmarks, including the Chalermphrakiat Hall, which is a neoclassical building designed in the French style, the Maruekkhathaiyawan Palace, and the Phiman Pathom Palace. Additionally, there are many other beautiful palaces to explore, such as the Emerald Palace and the Golden Palace, which are typical examples of Thai architecture. You should not miss visiting this site.
Don Wai Floating Market is an old floating market that has been around since the reign of King Rama VI. Located behind the Don Wai Temple, this market offers a wide variety of local food and snacks for sale, including the famous duck noodle soup, fish wrapped in pandan leaves, and many others. After enjoying some delicious food, don't forget to take a boat ride to admire the traditional Thai houses on both sides of the Chao Phraya River.
The Museum of Thai Bee Dolls
is a very unique museum, as the dolls are made from "fiberglass," which is a durable and weather-resistant material that is suitable for Thailand's hot and humid climate. The dolls on display are very interesting, including those of former Thai kings, characters from Thai literature, famous people from around the world, and many others. They reflect the stories that represent Thai culture, way of life, and traditions. The museum is definitely worth a visit.
Ayutthaya
a popular temple in Ayutthaya that is known for its beauty and historical significance. It is a temple that is frequented by tourists who are looking for a beautiful temple near Bangkok in Ayutthaya. It is also one of the world heritage sites and is considered to be one of the most important temples in the ancient royal palace of Ayutthaya.
This temple is interesting, ancient, and full of many stories. Wat Ratchaburana is located in Tha Wasukri sub-district, Phra Nakhon Si Ayutthaya district, Phra Nakhon Si Ayutthaya province, near the Pa Than Bridge. It is considered one of the biggest and oldest temples in Phra Nakhon Si Ayutthaya. It was built by King Borom Ratchathirat II, also known as Chao Sam Phraya, in 1967. If you are planning to visit the temples in Ayutthaya, Wat Ratchaburana is highly recommended.
is one of the most popular cafes in Ayutthaya and a must-visit tourist destination. Tourists love coming here because of the many photo spots that are sure to get a lot of likes. The food and drinks at this cafe are also delicious. The famous dish in Ayutthaya is the grilled jumbo river prawn, and for those with a sweet tooth, all the menu items are delicious. The building itself has a beautiful architecture with orange brick structures mixed with woodwork that will take you back to the old days in Ayutthaya.
Here are some tourist destinations near Bangkok that you can drive to without getting too tired. You can go in the morning and come back in the evening for a one-day trip. If you are staying in Bangkok and want to drive to these provinces but cannot find a car to rent, we recommend renting a car with us. Our rental cars are affordable, clean, in good condition, and come with pick-up and drop-off services. Click Bangkok car rental for more information.